Found a copyright marking system for images that I've been playing with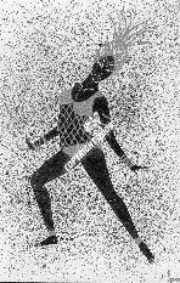 so that an artist friend of mine may feel a bit more secure about placing her images on the web.
With Google Image, I myself have wondered about this and worried a bit; not for most of the images, but the ones that have been either included in my hypertext pieces or are of a personal nature–one in particular of my Dad sitting on a lawnmower. For the others, I'm careful about including any family members or friends. I have found a photo of my canned peaches on someone else's website and they didn't pull it off my site directly but rather, through Google. It doesn't bother me, but it's a warning of the fact that anything you put out there, Google will find.
I downloaded a $16.50 DropWaterMark program that is easy yet fairly sophisticated. The only thing I'd like to find out is if I can put an image on a site without the mark showing, yet having it reveal itself if Google or someone else swipes it. Even with a more transparent mark, it would certainly detract from the image an artist wants to be able to sell from the web.