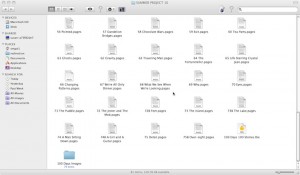 So here we are at Day #75 of the 100 Days Project. I hate it when what I might consider a landmark day produces less than top quality output. I was thinking of waiting and marking off day #76, or #83, or whatever came up again as a good one but I'm just too rigid for that, so I'm stuck with what came to mind. More on this later…
The first image is of a main folder file called "100 Days 10" meaning, the Summer 2010 project. It holds each story file along with an Image folder and the Tinderbox file that organizes the whole project for me (more on that at Hypercompendia).
This next shot is of the Tinderbox file itself, and the organization by relative theme, genre, word count, along with some terrifically helpful Agents that I've already used to sort stories by submission and publication.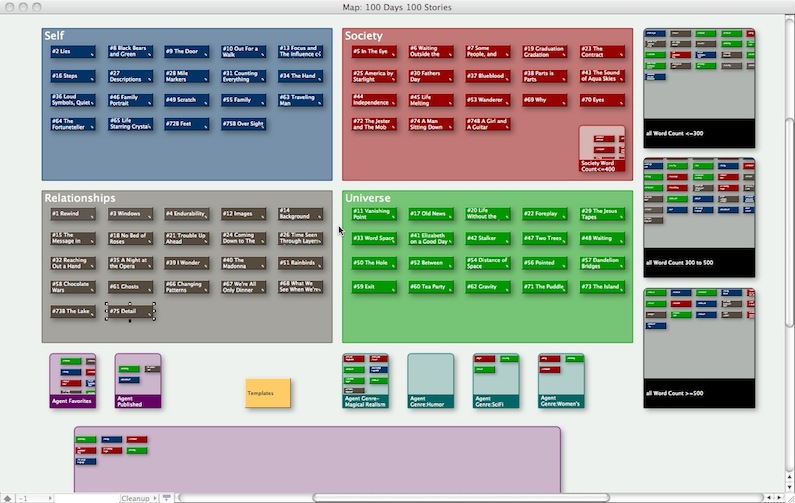 I've committed myself to joining a weekly story project (for 52 weeks) and another for the first 24 days of August (with the final week for editing). All told, I believe I'll be writing about 140 flash fictions between the last week of May and the last week of August. Just to keep them together I've double-posted at my 100 Days those extra 24 stories, keeping the theme of the day as offered by John Timmons' videos. So there's a #71 and #71B, etc. up through #95. And here I've sort of run into both good and bad as a writer.
On the one hand, practice truly does help the mind conceive ideas and plots more quickly, and with flash fic, learn to put it down concisely and make best use of every word. If possible. And here's the down side: while I realize that some of these stories are the best writing I've ever done, some of them revert back to a traditional storytelling style that I just don't like anymore. With these, the whole story probably sucks, and that's why I didn't work them harder–though I have thrown many away and started from scratch.
Once I had the format down of posting the daily stories on separate pages here, I started adding in images with each story just to break up the text a bit, even with ten stories to a page. I'll note here that I also started Password Protecing the pages after a group was done because I noticed Google grabbing the images. I've always felt bad about an image I posted once of my Dad years ago, driving a new lawn tractor. There's no way of keeping Google–and others–from making images part of their public collection. They cover their asses with "may be copyrighted" as if people pay any attention to that.
Anyway, what this got me doing is playing in Photoshop and today, when I was grabbing a file image to post here of the Image file, I discovered Mac's "cover flow" view and love the way it came out:

Ain't that neat?
And this:

And this:

It's neat to be getting some photography in, though I roam the house to find something that will suit the story and even the cellar stairs have been photographed. I'm using my little Vivitar 3.5 megapixel digital that I got years ago and it's doing the job. What I'm learning is to explore Photoshop's capabilities. Layering, adding in images, pulling out sections of photos and dropping them against other backgrounds, playing with opacity in the layers.
So not all the stories are literary marvels and not all the images are expert manipulation. I'm learning. And I have twenty five days left to go.