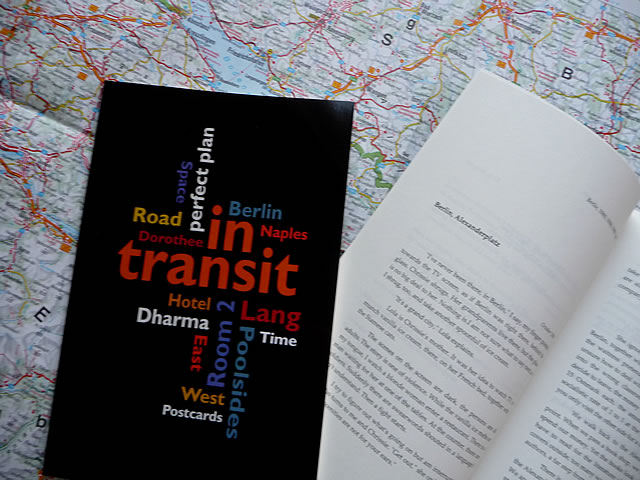 The third section of this book starts with a poem and these opening lines:
two lines of horizon

ornament letters plastic sign
What better way to describe a journey taken by bus, by train, by car, where the land scape moves by as you're sitting still? Rushing by, needing to be absorbed by the eyes in consecutive blips and transmitted to the brain to be all sorted out.
In These Laws of Space and Time, the journey is once again told within the characters' action. Who has not wondered about that stranger sleeping next to you, his head nearly on your shoulder as you watch cities, countries fly by. But there is always a thread of common ground that we hold between us and even in the few minutes of journey that's shared, it is found.
Dorothee's constant awareness of time and space as they pertain to place in this book shows up here, in The Buddha, the Dharma & the Sangha:
Towns are made of h0uses and streets. To get from one place to another, you either walk, or take a car. Rivers are crossed by bridges. Streets connect to other streets that connect to other towns. That is what I learned when I was a child.
And then proceeds to have her illusions tested when crossings are instead made by boat only. Here too, misconceptions of dangers both in place and in time are forewarned. The traveler must adjust to new languages but also to traditions and things that are locally known. Ginger tea may not be ginger tea as we know it.
The best thing about these stories and poems are the manner in which Dorothee selects what she writes about. It's not a vision of environment and scenery, but rather the constant that visits the new and discovers what is different, and what is the same.
World traveler, artist, writer, designer, entrepreneur, all these hats that Dorothee Lang wears are just as common to each of the pieces here as the innate humanness of mankind. Each of the pieces have been published elsewhere and brought together in this collection that stands as a tribute to the curious traveler.
In the final pages, Dorothee gives us insight into the process of putting together this collection, and it is surely as interesting as the journeys themselves. The sorting, the selection, the tying in of place, space, and time through organizational threads is a wonder of art in itself.
in transit may be purchased through Blue Print Press.
(Photo courtesy of Dorothee Lang)