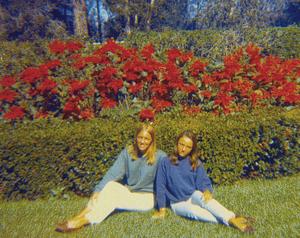 Pat and I met as sophomores in high school, she being transferred from another local school. We were such opposites: She, tall, blonde, extroverted, funloving to the point of peeing her pants when she laughed hard; me, short, light brown hair, introverted, serious to the point of gloomy in my efforts to be "deep." We doubledated, we were at each other's houses, we cruised together, slurped raw clams and ate lobster rolls at the hot spot near the shore, slept overnight in a "cat house" in PA with her dad, stayed a couple weeks down in Florida where we bought our first two-piece bathing suits with ties that you pulled to turn them into bikinis. We graduated valedictorian and salutatorian of the business course in our class. We lied for each other, but were completely honest with each other. We did just about everything together–yes, got drunk for the first time together on hard cider–until she got married to a great guy and moved to Tennessee. I tried, but just couldn't warm up to his twin brother enough to follow through with our plans to be sister-in-laws, but I was main of honor at their wedding, and twenty years later, she was at mine.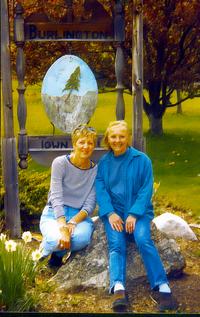 Pat came up to Connecticut a couple months ago, surprising me with a phone call from our own town hall less than a mile away from my house. We met, we gabbed, we updated, we laughed until Pat nearly peed her pants.
Some day I hope to actually get to Tennessee and spend some time together. There's no Jimmy's for lobster rolls in TN, no parking at Coon Hollow after shooting pool. But I'm sure Pat and I could find a way to get ourselves in some sort of trouble after just a bit of time together and a taste for some adventure.
(I know, I really need to find out why my scanner does such a lousy job on color and resolution. And, I suppose, learn to use my digital camera for new pictures.)