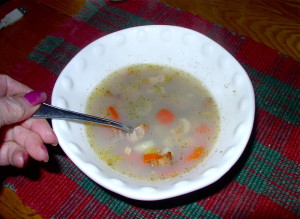 3 lb. Cherrystone Clams
¼ lb. bacon
2 carrots, sliced
3 stalks celery, sliced
2 small potatoes, diced
salt & pepper to taste
water
Wash and scrub clams and put in large kettle with 1" of water and heat. Pull out and clean as they open, and cut into pieces and set aside. Save clam juice and add in 2-3 quarts of water and simmer gently. Add in carrots, celery (some leaves are nice too), and potatoes.
Cut bacon into ¼" pieces and fry until crisp, saving some browned grease. Add bacon and browned grease into soup water.
Add cut clams, salt and pepper, and simmer for a short while until clams are cooked.