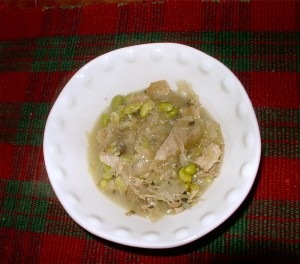 4-6 Country Pork Ribs
1 can Beer
Water
Salt & Pepper
1 can Sauerkraut
Dried Mushrooms or ¼ lb. Chopped Fresh Mushrooms
2 tbs. Butter
1 can Split Pea Soup
Boil pork ribs in 1 can beer and enough water to keep covered until tender, with a sprinkle of salt. Take out and trim off fat and cut into pieces. Return to soup base.
Meanwhile, drain sauerkraut (saving the juice and adding into the soup) and cut with scissors. Saute with mushrooms (dried s/b reconstituted in hot water first) in the butter. Add, along with sauerkraut juice and pea soup in with the pork and soup. Cook another 15 minutes and serve with fresh pepper.