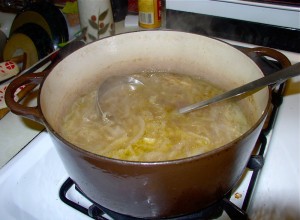 2-½ lb. Onions, cut in half lengthwise and sliced
¼ lb. Butter
6 cups Water
3 cubes each, beef bouillon and chicken bouillon
Ground Pepper
½ cup dry Sherry
1" thick sliced dried (stale or toasted) bread
Cheeses to top; Swiss, Gruyere, Monterey Jack, Mozzarella, whatever, but Swiss is at least one of the combination I always use
Saute onions in butter till limp and translucent. Add water and bouillon cubes, and pepper. When simmering, add in the sherry.
Ladle into soup pots to within an inch of rim. Lay a slice of bread on top and place cheeses of choice on top in a mound.
Place bowls in oven heated to 350 degrees until cheese is melted, bubbly, and browned lightly.