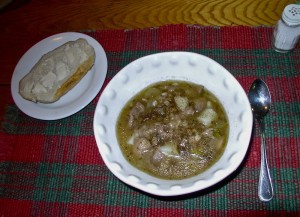 2-4 Lamb Shoulder Shanks
3 tbs. Butter
1 can Beer
2 qt. water
½ cup Lentils
¾ cup Barley
3 medium Potatoes, cubed
1 can Mushrooms
2 stalks plus some leaves Celery, cut up
Sage, Thyme, Dill, Garlic Powder
Salt, Pepper
Brown lamb shanks in butter and add beer. I stop at this point and use a pressure cooker without much water, but you can add water and simmer till tender. Take out shanks when meat falls off the bone and set aside to clean and cut up into small chunks. Get stock boiling again and add lentils, barley, potatoes, mushrooms, celery, and herbs and seasonings. Return cleaned meat and the long bones back to stock and simmer until it turns to soup (or when lentils, barley, and potatoes are cooked). Take out bones before serving.