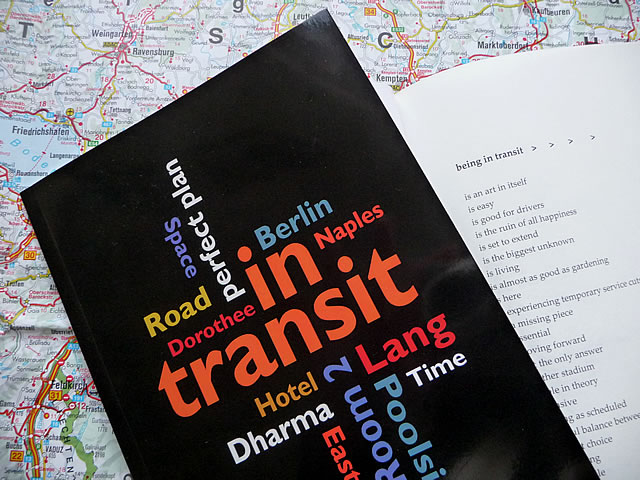 Always on top of my pile of "to reads," this small book of stories of travels has been teasing me for a few months now. Unfortunately, my reading has lately been limited to online short stories at Fictionaut, at 52/250, and other small literary communities and journals. One of this year's goals is to get back into reading books–real books, whether from my overflowing bookshelves or via Kindle for Mac.
Dorothee Lang is the editor of Blue Print Review where she's graciously published a few of my stories and images, as well as Daily sPress where she reviews small press publications and publishes at Blue Print Press. Her work in fiction, non-fiction, poetry, and art and photography has been widely published in many literary journals. She is listed in the Electronic Literature Directory for early work in new media form. Via emails, she's become more of a friend. Living in Germany, we're a distance away. There is one other difference between us that's obvious: Dorothee travels, has knowledge of foreign places that I've only read about. in transit comes out of that understanding of living and traveling in places that may or may not ever become "home."
The opening page of the book is a listing called "being in transit >>>" that really is a poem:
(being in transit >>>)

is an art in itself

is easy

is good for drivers

is the ruin of all happines
The list goes on, but what I believe she is saying here is that it is what it becomes for the traveler, if in compliance with the purpose, or if it does not indeed answer the question raised by the motion.
The small book is divided into four sections: Germany, Europe, USA, and Asia. Each has a few poems or stories inspired by an itinerary of the journeys. There are leaps in time as each makes its impression. Dorothee's writing (the book is in English, Dorothee is fluent in both German and English) is clear and precise, yet brings in the mood via her choice of words:
There is still an hour of time left when we arrive back at the Alexanderplatz, but most of the others are there already too. We are sitting on the steps of a fountain guarded by stone snakes, waiting for the bus to arrive, to take us back to our hotel in the Westside. Overhyped and dazed, we pull the unused bills of Ostmark from our pockets and start to turn them into planes, into boats that drown in the snake fountain.
Dorothee takes on subsequent trips to different parts of Germany, and there is a thread of distance of time as well as of space. At one point she visits a museum where she recognizes a particular work of Donald Judd that she has seen before though she hadn't been to this place. The resulting conversation with a museum attendant brings in once again the element of spaces, of how one looks at things, of how one's perspective changes over time.
While the section on Germany was written mainly in first person, the next on Europe goes into third. Pool Sides, set in Spain in 2004, is a feeling. Reflection, simple setting but so much deeper in meaning. The last paragraph, where the character returns to the pool in the early evening, says much:
The shadows of the palm trees are stretching from the one side of the pool to the other now. Soon they will disappear all together. She makes a mental note to buy the music she heard in the afternoon. Yet there, in the fading light of the sun, she can neither remember the song, nor the thing she hoped to find there.
In Harlequin, set in France in 2006, Dorothee reveals a relationship through dialogue of a couple on vacation. Through detail, through the wondering over a gecko being alive or fake, the two characters are exposed.
The final offering in this section, Hotel Universe, is an exquisite drawing of lines and people via avenues and streets, the texture of roadways and the crossing of daily lives.
Next: The U.S. and Asia
(Photo courtesy of Dorothee Lang)