Here's downtown Pittsburgh from my room on the 9th floor of the Omni William Penn Hotel: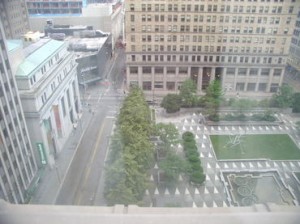 I sat in that courtyard watching people and the activity and what it produced is a story.  There were about twenty teenagers skateboarding off a ramp one early afternoon; there were pigeons flying in flocks or pecking around for food, seeds tossed by an old woman from a brown paper bag.  One pigeon sat in a tree where a boy's shoe was wedged inextricably between trunk and branch. A shabby-suited man sat on the granite bench, expressionless, staring out at it all.
Hypertext will tie this moment together, the branches of the individual characters combining to come to this single event.  And Storyspace is going to help me tell it.