So here's proof that I went, and that you can't hand someone a camera they don't know how to work five minutes before it's needed: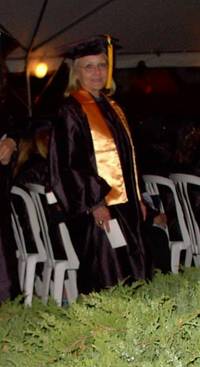 I learned much by going after all:  Where I stashed the decades old bobby pins; how to keep a mortarboard on in 40 mph winds; question your counselor about graduation, otherwise your honors will not be recognized; if ever asked to put a graduation program together, find a speaker who is aware that it isn't an 8th grade grad ceremony; there is no need to show up on time to sit for an hour in a room where no one knows which side the tassel goes on; grad speakers are oblivious to weather conditions that are blowing their audience away; the valedictorian is often a professional student who really needs to get a job more than another associates degree; the dental assistant program has the most enthusiastic graduates, cheering loudly for each other (until they're out there fighting each other for jobs, I would guess); I was the oldest student in the graduating class of 400 plus students–honest to God, they mentioned the age span as 13 to 57, and my family cheered for me.  The youngest student was three students in line ahead of me and was properly recognized by the dean.  My fear was that I too would be pointed out as the oldest.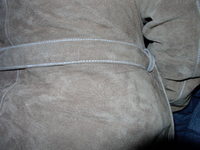 Other than that, and missing the sense of closure that will only come with the end of summer's semester and completion of the required science elective, it was an experience.  Oh yeah, here's another of my sister's pictures.  I have no idea what it is.