E-mailed my niece in Spain to have her let me know if the packages I sent out on December 11th did not make it because I couldn't track it.  She already had them!  So that's great service.
However, a check on the USPS website to track this package still shows this: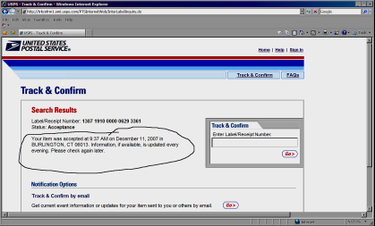 What I circled above says:  Your item was accepted at 9:37 AM on December 11, 2007 in BURLINGTON, CT 06013.  Information, if available, is updated every evening.  Please check again later.
I also had requested e-mail tracking and did immediately receive an update with the above information and nothing since.
This is why it's likely time for a non-government mail service to take over.  The delivery services such as UPS, DHL, Fedex, etc. have done a great job of package service (btw, because of the delivery locations I could not use them for these two sendings), and e-mail and text messaging have cut a huge chunk out of the mail service–not to mention online bill paying and e-mail greeting cards–so it's time for someone to step up to the plate for the rest of the postal service.
Neither rain nor sleet, etc.; but lack of computer savvy will do it.